No hassle, no guesswork, simple dumpster contracts.
Lowest fees in Richmond with no hidden costs.
Get a free consultation, call us now at: 804-409-9050.
Friendly waste management expert customer service.
We always deliver and pickup on time.
We are a local family business in Richmond, VA.
Here at Richmond Dumpster Rental Center we have been in the dumpster industry for a long time and we have helped many homeowners, contractors and businesses in Richmond, VA. Whatever dumpster size you may need for your project in Virginia, we can deliver it to your location on short notice. We will send the dumpster to your premisses as soon as possible, usually in less than 24 hours.
It is our objective to give each and every of our customer the best dumpster service possible. Roll-off umpsters are delivered promptly, so you don't have to wait to clean up your place. To experience speedy dumpster rental services, all you have to do is call us at 804-409-9050 and speak with one of our customer service representatives who are all friendly and can answer any of your questions related to waste management and roll-off dumpster rental services.
How To Rent A Rolloff Dumpster
We guarantee that we can supply all your dumpster rental or recycling requirements. It doesn't matter what container size you need because we always have a wide selection of dumpster sizes available in our inventory. If you are not sure what dumpster size to pick, we can always help you decide the best rolloff size for your specific project. We are just a call away!
When renting a dumpster from us, all you need to do is book an appointment over the phone, then we will take care of the hauling and disposal procedure which essentially makes life so much easier for you when it comes to your waste management jobs.
When you finally have booked your appointment and gave us the necessary details for the container delivery, we will transport the dumpster to the location you provided us. You can begin using the dumpster immediately once it has arrived at your place. As soon as your project is completed and you no longer need that dumpster, we will then come to your location and pick up everything on time and remove the dumpster from your premisses.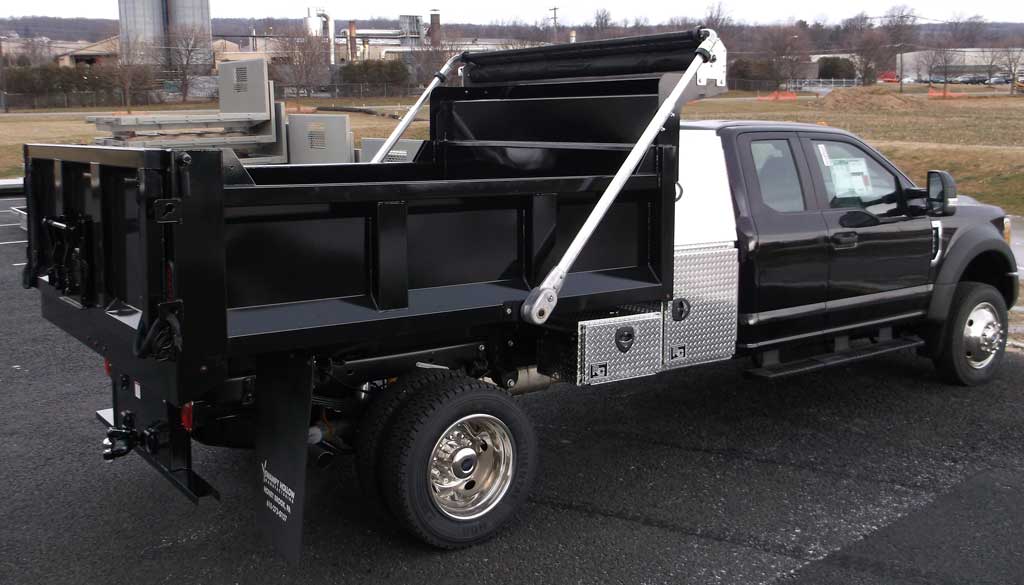 The Best Junk Removal Service in Richmond
We know that most people are looking forward to getting the lowest priced dumpster rental service that can efficiently handle their waste removal requirements. That's why we see to it to provide outstanding services at very affordable rates.
Here are the things that you should know about why it pays to work with us as your preferred dumpster rental company:
Time is money. We value everyone's time. We don't want to cause any delay in delivering our dumpster containers to you. We also always pick them up and haul them away on time.
Safety is our priority. At Richmond Dumpster Rental Center, we guarantee a 100% protection for your property. We have made sure that all of our dumpsters are in great working condition. We also have trained our crew about safety precautions in transporting the dumpster to your place and handling the rolloff containers with care.
Satisfaction guaranteed. We already have helped many customers in Richmond and the neighboring counties. We value everyone's trust, so we are transparent with regards to our pricing. We do not charge additional hidden fees like some of our competitors do. From the moment you call and book an appointment with us, you can get an exact quotation for the services you want to avail, so you know exactly what to expect.
Our experts can help you. Our customer service representatives are second to none. They are very-knowledgeable regarding providing solutions to all your dumpster rental inquiries. They will be delighted to speak with you and assist you in your rolloff dumpster rental needs and queries. It's not a problem if it's your first time hiring a dumpster rental service, because they will be more than happy to help you throughout the process of renting a dumpster with us.
Dumpster Sizes Guide
This guide will help you decide what type of dumpster you are going to need to rent for your project. Of course it will depend on the size of the job you are planning to work on.

10-Yard Dumpsters
Approximate dimensions: 12' long x 8' wide x 4' high
A 10-yard dumpster is most suitable for medium-sized cleanup projects as well as smaller remodeling construction projects. Below are the specific projects corresponding to this type of dumpster size:
Kitchen remodeling project
Single shingle roof debris
Deck removal
Yard landscaping
20-Yard Dumpsters
Approximate dimensions: 22' long x 8' wide x 4.5' high
A 20-yard dumpster is about twice as long as the 10-yard dumpster. It is a perfect choice when it comes to larger home cleanup projects. If you are working on mid-sized renovation or extension construction projects, this is the best option too.
Large deck removal
Garage and basement cleanouts
Single shingle roof debris
Attic refurbishment
30-Yard Dumpsters
Approximate dimensions: 22' long x 8' wide x 6' high
This 30-yard dumpster has similar dimensions to the 20 yard, but the 30-yard size has higher walls. This dumpster size works best for a complete home clean-out, renovation and remodeling projects for large homes or for a wing extension to a house.
Two-car garage demolition
Siding or window replacement on small to medium homes
Small house demolition
Large roof replacement
40-Yard Dumpsters
Approximate dimensions: 22' long x 8' wide x 8' high
The 40 Yard Dumpster is similar to the 20 and 30-yard dumpsters, but this one has the highest walls. These dumpsters are recommended for the largest projects such as the following:
Large commercial building cleanout
New construction or building development
Siding or window replacement for large homes
Large roof tear off
Entire house cleanout
Get Your Dumpster Container Today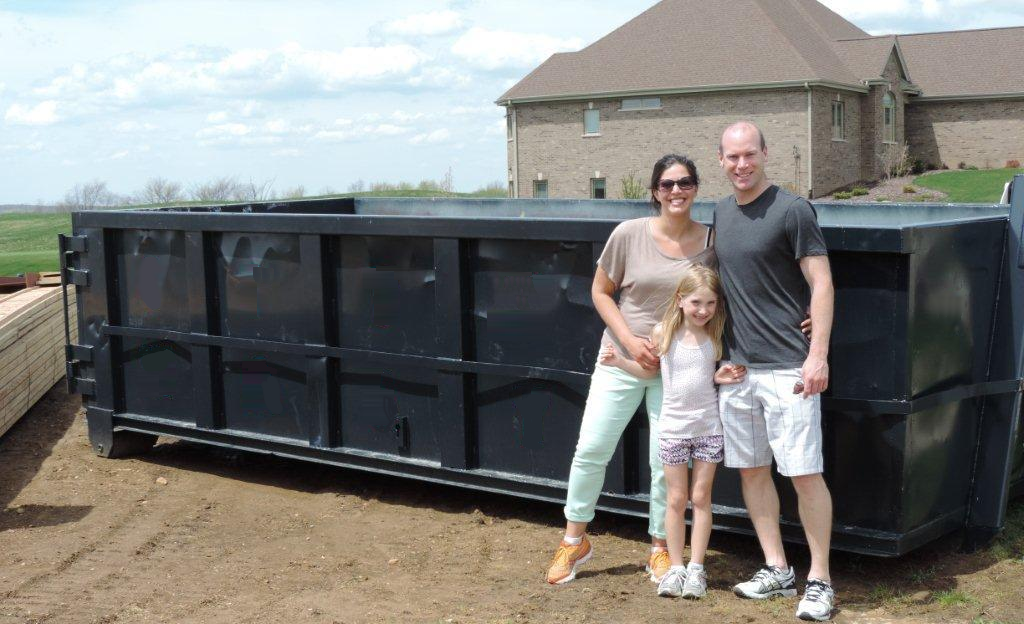 We understand that picking the right dumpster size can be a challenging task, so if there is any confusion about that, please call us at 804-409-9050 to make sure you get the correct container size for your project. Our business representatives can provide all answers to whatever questions you may have to get the perfect roll-off container choice for your project.
So if you need scheduling a few bins or a rolloff dumpster rental near me to dispose of your refuse, call us now and all your questions will be answered promptly. It does not matter if it is restaurant litter, metal items, backyard debris even trees, furniture, cabinets or carpet items, bricks, electronics, domestic appliances, roofing waste, compost or scrap, we will take it all away for you.
We also service the following cities: Ashland, Bellwood, Bensley, Bon Air, Chamberlayne, Chester, Chesterfield, Colonial Heights, Dumbarton, East Highland Park, Glen Allen, Goochland, Hanover, Henrico, Highland Springs, Lakeside, Laurel, Manakin Sabot, Manquin, Mechanicsville, Midlothian, Powhatan, Quinton, Richmond, Rockville, Sandston, Short Pump, Studley, Tuckahoe, Wyndham.
Some of the corresponding zipcodes are here: 23113, 23173, 23219, 23220, 23221, 23222, 23223, 23224, 23225, 23226, 23227, 23230, 23231, 23234, 23235, 23298
No hassle, no guesswork, simple dumpster contracts.
Lowest fees in Richmond with no hidden costs.
Get a free consultation, call us now at: 804-409-9050.
Friendly waste management expert customer service.
We always deliver and pickup on time.
We are a local family business in Richmond, VA.
Dumpster Sizes
How to Figure Roll-Off Container and Dumpster Sizes for Your Project Cleanup
When you plan a do-it-yourself home renovation or remodelling project, getting rid of junk and other waste is probably not the first thing you think about. But you will quickly learn that it is much easier to go out and buy the new materials you need than it is to get rid of the old ones you tear out.
The system for getting rid of household junk won't work for the construction debris you need to get rid of, and you'll find that renting a roll-off container is the most cost-effective way to get rid of it. Roll off containers, or "rolloffs" as they are called in the business world, are like big dumpsters that you can use only once and fill with any kind of junk. When you're done, the company that brought the roll-off container will come and take it, along with the junk, away.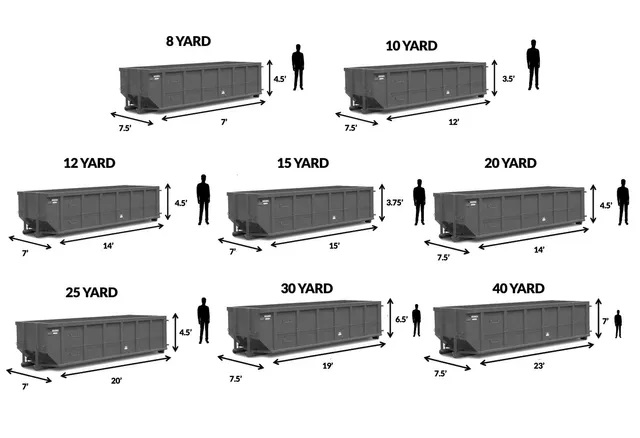 Will a company that rents roll-off containers work with me, and how do I get the right size?
When people think about the need for a rolloff, this is often the first question they have. In the business world, there are standard sizes that are measured in cubic yards. The most common sizes of rolloffs for do-it-yourself projects are 20 and 30 cubic yards, but 10 cubic yard and 40 cubic yard units are also available.
When you talk to someone from a roll-off container company, though, they will talk about a "20 yarder" or a "30 yarder." This is the language of the business world, and this is how sizes are written.
Before you call, you should have an idea of what size you need. This will let you talk about ordering a rolloff and find out what you need quickly and easily. You will want to know the prices and any rules or information they have about restricted materials without having to ask a lot of basic questions.
The area that makes up a cubic yard is 3 feet long, 3 feet wide, and 3 feet deep. To get an idea of how big your space needs to be, think about a small one-car garage. Our made-up small one-car garage is 14 feet wide, 22 feet deep, and 8 feet high (usable space). This is about the size of a storage unit. There would be 100 cubic yards of space in a small building this size.
So, when choosing a dumpster size, you should think about how big a roll-off container you might need based on how much debris and junk your project will make.
10 yards is a small amount and would probably only be enough for a very small project, like re-flooring a bathroom or small room.
20-yarders are getting close to the size you might want for some smaller projects. They have about the same amount of space as going back about 4 feet into our made-up garage. But this is a good starting size if you don't have a lot of sheetrock or wood to get rid of.
30 yarders are starting to be big enough to handle bigger projects, like tearing out cabinets or changing a wall in a room bigger than a bathroom.
And a 40-yarder will give you more space if you really need it. This would be like having enough space to fill our made-up small garage with junk almost all the way to the top.
Also, try not to wait until the last minute to order a rolloff that will turn out to be too small.
If you're not sure, get the next size up. It seems like there is always more junk than you think. If you overestimate the size and still have room left over when your project is done, you can be happy that you didn't run out of room and don't have to pay extra for extra dumps. Then look around and get rid of any other junk or debris that has been there for a long time and would be hard to get rid of any other way.
Making it easy to get rid of the junk is a big part of making sure a project goes smoothly. At the end, you'll get to call the company that rented you the dumpster and have them come and take it away. It's a great decision.
Call us at 804-409-9050 if you want to know more about how to choose the right dumpster size for your project or where to find roll off containers in your area.
No hassle, no guesswork, simple dumpster contracts.
Lowest fees in Richmond with no hidden costs.
Get a free consultation, call us now at: 804-409-9050.
Friendly waste management expert customer service.
We always deliver and pickup on time.
We are a local family business in Richmond, VA.